How to find us - Access to our secured car parc / Green zones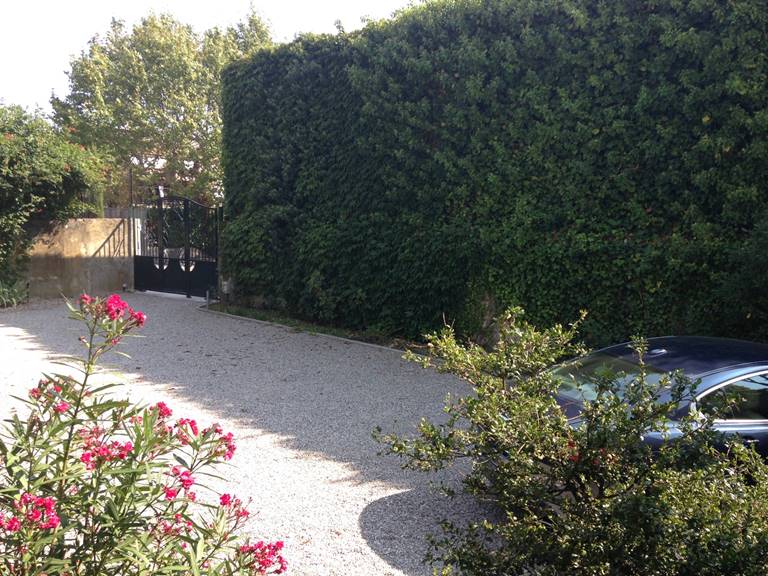 To get here, it is the easiest way to follow the N7 Valence - Avignon, that surpasses Montélimar on the West side. You will find the N7 when you exit the A7 motorway at either Montélimar Nord or Montélimar Sud.
- From A7 Montélimar Nord : Follow the N7. When you reach Montélimar, turn right on the large roundabout, direction Orange. Follow the N7 until the roundabout with the fighter plane. On that roundabout take the exit D11 Montélimar Centre.
- From A7 Montélimar Sud : Follow the N7 direction Valence until you find a roundabout with a fighter plane. Take the exit D11 Montélimar Centre.
- When you approach Montélimar from the West, f.e. via N102, please drive via Rochemaure. Cross the Rhône river there, following directions to Montélimar on the D11. Just drive straight on. Your road will become the Avenue de Rochemaure after a few km's.
At the exit Montélimar Centre you are already on the Avenue de Rochemaure. Drive down the Avenue. We are on your left immediately after the tunnel.
When you arrive at our address, 18 Avenue de Rochemaure, you will find a large green gate. This gate is on the South side of our parc. Our car parc however is on the North side. Turn left and drive along the large white building next to our parc. At the end of the white building you will find a large black gate. The address of that black gate is 1-Bis Rue Paul Loubet. Behind the gate you will see another green gate, on your left, the entrance to our car park.
To let us know that you have arrived, you can use the telephone next to the black gate (we are Maison M0001, which you can select by pressing the upwards arrow button) or you can also, upon arrival, give us a quick ring at +33 469 266 043 which is also the most convenient option.
If you come by train
Our Villa is just a few hundred meter from the Montélimar TGV station. After exiting the station, turn left on the Rue Olivier de Serres. Follow the street for about 250m. The Montélimar parc is on your right. The first road crossing is the Avenue the Rochemaure. We are 40m to the left, across the street, the green gate.
Green Zones
Many cities in France implement restrictions for cars. In particular Paris, Lyon, Toulouse and Grenoble. Since late 2017 many departments have put legislation in place that allow to constrain traffic in case of heavy pollution. Our department, Drôme (26), is one of these departments. And constraints may include the A7 Motorway
For more information: https://www.green-zones.eu/en-html