Loading in progress…
100% Secure Booking, Best Rates Guaranteed, Instant Confirmation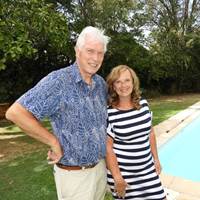 Daniel et Clasine van Driel, Propriétaires
Villa Magnolia Parc - Bed and Breakfast in Montélimar, in Drôme Provençale
Located in the very center of Montelimar, a city with 40.000 people, at the crossroads of the Ardèche and Drome Provençale, near the Via Rhona (cycling road) lies this beautiful Villa, in a park of 3,000 m2. A special redevelopment project has transformed this original and, at the time, badly neglected nineteenth century Villa into a place of charm and good taste, Daan and Clasine welcoming their Bed & Breakfast guests in rooms furnished with taste, where comfort and elegance are combined. They happily share their passion for this region and this place.
The park of the Villa contains big trees, many of then over 100 years old. The Montélimar train station is in the immediate vicinity and only 2h30 from Paris by TGV. Near Montélimar, you will find 2 golf courses and many attractions like Châteauneuf-du-Pape, famous for its wines and Grignan with its castle. There are more than 45 restaurants , 1 theater and 2 cinemas on foot. The Villa has its own parking space on the grounds of the Villa. Your (small) dog is welcome.
Children from the age of 15 are also welcome.
Some of our rooms are wheelchair accessible. Our elevator serves all floors. The rooms are airconditioned and in summer you can enjoy our outside pool. Our parking is equipped with chargers for electric cars. Free WiFi is available throughout the house and the garden.
Ideally situated as a basis for daytrips.

And it is here where the weather changes, where sun replaces rain and where clouds give way to a clear blue sky.
Your Comfort,
Our Services
Our services
Disabled access
Pets allowed